About the Conference
On behalf of organizing committee we take great pleasure to invite participants from all over the world to attend
3rd Global Ophthalmology Summit
, scheduled during March 23-24, 2020 at Dubai, UAE mainly focused on the theme "Visualizing the Global Advancements in Ophthalmology". Ophthalmology conference aims to bring together the prominent researchers academic scientists, and research scholars to exchange and share their experiences in all aspects of ophthalmology. It is also an interdisciplinary platform for researchers, practitioners, and educators to present and discuss the most recent advances, trends, and concerns as well as practical challenges and solutions adopted in the fields of ophthalmology.
International Conference on ophthalmology will focus on many interesting scientific sessions and covers all frontier topics in ophthalmology which includes Basic Principles in ophthalmology, Retinal Disorders, Neuro-Ophthalmology, Glaucoma, and many more from across the globe, it held with the discussions on Cornea, Retina and External Eye Disease.
The focus is mainly on minimizing the hazards and maximizing the efficiency of any chemical choice. The conference also includes Keynote speeches by prominent personalities from around the globe in addition to both oral and poster presentations.
On behalf of Ophthalmology Summit 2020, we are glad to invite contributions from the enthusiastic academicians, scientists to organize International Symposiums/Workshops that are both empirical and conceptual in exploring new dimensions of green chemistry challenges towards achieving the solutions.
Who should attend???
Research Institutes and Companies providing research products and services for the Higher Education Sector Ophthalmologists, Opticians, Ocularists, Orthoptists, Optometrists ,Chancellors/Vice Chancellors/ Promoters / Directors / Principals / Chairpersons /Academicians / Senior Management / Administrative Heads & Decision makers of Universities /Higher Educational Institutions (Public & Private)Media… and many more
Why exhibit???
Branding and marketing opportunity Showcase opportunities available in your own market and encourage foreign universities to collaborate Opportunity to sign MoUs with Global Universities and Institutions which are interested in Global Market Opportunity to explore tie-ups for research, student and faculty exchange programs, twinning programs, etc.
Registration benefits:

Only Registration Includes....
· All 2 days programs
· Reception banquet
· B2B meetings
· A free paper abstract in our Journal for free of cost
· Accepted Abstracts will be published in respective supporting journals, each abstract will be labelled with a DOI Provided by Cross Ref.
· Certificate of the presentation by International Organizing Committee (IOCM)
· Can attend all the Interactive sessions and Workshops
· All attendees can avail CPD Credits (Continuing Professional Development) by attending our prestigious conference.
· Career Guidance Workshops to the Graduates, Doctorates and Post-Doctoral Fellows
· 2 days Lunch during the conference
· Coffee break during the conference
· Conference Kit
Package A: Above 12 features including the following...
· Breakfast during the Conference
·
2 Night's accommodation (i.e.
March 22nd
& 23rd
) in a deluxe single/double room at the conference
Package B: Above 14 features including the following...
· 1 Night extra accommodation i.e. March 24th (Total 3 nights)
Exhibitor/Exhibition
Get Benefits of Exhibitor

Welcome message
With great pleasure, we invite you to participate in the Conference on
Ophthalmology Summit 2020
which is going to be held on March 23-24, 2020 at Dubai, UAE. The topic of the conference covers a wide range of critically important sessions related to ophthalmology and its advancements. On the behalf of Scientific Committee and as Member of the scientific Committee it is a great pleasure to invite you to this enlightening Conference.

It will be the best opportunity to know and share new experiences in the field of Ophthalmology, with the most renowned Ophthalmology speakers from all over the world, making this event the event of the year in our specialty. We look forward to meeting you and exchanging experiences, new research work and always contributing to improving the quality of life of our patients, the engine of knowledge and research in our profession. Let's meet at the International Conference on Ophthalmology Summit 2020, in Dubai, UAE.
Target Audience:



Ophthalmologists, Opticians, Ocularists, Orthoptists, Ophthalmic medical practitioner, Optometrist, Popular Researchers and Scholars, Assets of Ophthalmology, Ophthalmology Associates and Societies, Business Entrepreneurs, Vision Research Labs Members, Software developing companies, Associations Manufacturing Medical Devices, Ocular surgeons, Students, Clinical Pharmacist, General Practitioners, Researchers, University Professors, Delegates, Attendees etc.
Sessions and Tracks
Glaucoma
could be a cluster of eye conditions that injury the nervus opticus, the health of that is significant permanently vision This damage is often caused by abnormally high pressure in your eye. With early treatment, we can protect eyes from serious vision loss. Glaucoma is one of the leading causes of
blindness
for people over the age of sixty. It will occur at any age however a lot of common in older adults is. The signs and symptoms of glaucoma vary depending on the type and stage of your condition. It was a leading cause of blindness in the United States. It usually happens when the fluid pressure inside the eyes slowly rises, damaging the optic nerve.
· Primary open-angle(Chronic) glaucoma
· Angle-closure glaucoma
Many eye diseases have no early symptoms. They are also
painless
, and you may see no change in your
vision
until the disease has become quite advanced. The best way to protect your vision is through regular professional eye examinations.Of course, between examinations, if you notice a change in your vision – or you think your eye may be injured in any way – contact your eye care professional immediately.
· Keratoconus
· Age-Related Macular Degeneration
· Diabetic Macular Edema
Eye surgery
, additionally referred to as ocular surgery, is surgery performed on the attention or its body part, generally by an associate oculist. The eye could be a terribly fragile organ and needs extreme care before, during, and once an operation to minimize or stop any injury. An expert eye surgeon is responsible for selecting the appropriate surgical procedure for the patient, and for taking the necessary safety precautions. Ophthalmic and external body part
surgery
is related to a spread of involuntary viscus disturbances throughout the intraoperative amount. The most common of all is sinus bradycardia, but conscious patients can also present with nausea, vomiting, vertigo, syncope, gastric hypermobility, and orbital pain.
· Laser eye surgery
· Cataract surgery
· Vitreo-retinal surgery
· Eye muscle surgery
· Retinal Replacement Surgery
Pediatric ophthalmology is a sub-specialty of
ophthalmology
concerned with eye diseases, visual development, and vision care in children. Pediatric ophthalmologists specialize in the event of the sensory system and also the varied diseases that disrupt visual development in kids. Pediatric ophthalmologists also have expertise in managing the various ocular diseases that affect children.
Pediatricophthalmologist
square measure qualified to perform advanced eye surgery, in addition, to manage children's eye issues mistreatment glasses and medications. Many oculists and different physicians refer medical specialty patients to a medical specialty ophthalmologist for examination and management of ocular issues thanks to children's distinctive wants.
· Amblyopia
· Accommodative insufficiency
· Convergence insufficiency
· Pediatric glaucoma
· Genetic disorders
· Orbital tumours
The lens is the second part of your eye, after the cornea that helps to focus light and images on your
retina
. The lens, by changing the shape, functions to change the focal distance of the eye so that it can focus on objects at various distances, thus allowing a sharp real image of an object of interest to be formed on the retina. In humans, the refractive power of the lens in its natural environment is approximately 18 dioptres, roughly one-third of the eye's total power. Ophthalmologists and optometrists at NYU Lang one will determine
refractive
error which may be a modification within the form of the attention that causes vision to become blurred. Refractive error means that the shape of your eye does not bend light correctly, resulting in a blurred image. Eye surgery to correct refractive error is an increasingly popular alternative to eyeglasses or contact lenses for most people, including those with near-sightedness, farsightedness, or astigmatism.
· Toric contacts
·

La

sik
· Rigid gas permeable lenses
· Myopia
· Astigmatism
Eye allergies
are a reaction to indoor and outdoor allergens that get into your eyes. Eye allergies are also called as "allergic conjunctivitis," are a common eye condition. The tissue that lines the inside of the eyelid and outside of the eyeball is called the
conjunctiva
. This tissue keeps your eyelid and eyeball moist. Allergic conjunctivitis occurs when this tissue becomes inflamed.
The common symptoms of eye allergies are:
· Redness
· Itchiness
· Burning feeling
· Swollen eyelids
· Feeling like there is dirt or grit in your eyes
Neuro-ophthalmology
is associate academically-oriented subspecialty that merges the fields of neurology and medicine, typically handling advanced general diseases that have manifestations within the visual system. The Neuro-Ophthalmology Service treats disorders like
optic redness
, anemia optic pathology, brain tumors involving the optic nerves or body part, strokes that cause visual loss or impairment, transient monocular blindness, hemicrania with visible symptoms, disease of the neuromuscular junction, disseminated multiple sclerosis, mitochondrial illness, a degenerative disease that affects the attention and unexplained vision loss.
· Related Conditions and Treatments:
· Headache and Facial Pain
· Myasthenia Gravis
· Multiple Sclerosis
A
cataract
may be vaporization of the lens within the eye that affects vision. Most cataracts are related to aging. Cataracts, or clouding of the lens of the eye, may be due to age, a birth defect, an injury, or other diseases or circumstances. A cataract is an eye fixed sickness within which the clear lens of the attention becomes cloudy or opaque, inflicting a decrease in vision. The eye, its surrounding structures and the visual system can be affected by a number of clinical conditions.
Ophthalmology
involves identification, and medical aid of such conditions, in conjunction with the surgical process.
· Macular degeneration
· Diabetic retinopathy
· Age-related macular degeneration
· Corneal Ulcer
Vision problems
might seem inevitable, but recent advances may lead to a clearer future. Vision is a vitally important sense, but about 50 million people worldwide are blind and another 150 million are significantly vision-impaired. While trauma and infection can cause impairment, the majority of human eye diseases are genetic in nature. They are many laboratory and research centres perform researches into the biology and genetics of vision, mutations that lead to impairment and
blindness
, and the mechanisms of eye disease. Some latest eye equipment is given below.
· Binocular Indirect Ophthalmoscope
· Manual Keratometer
· Argon or Diode laser
· Argon or Diode laser
· Femtosecond laser
Infection of the external structures of the attention is one among the most typical forms of disease worldwide.
The
microbiology
of the
eye
.In addition, although relatively impermeable to microorganisms, infection within the eye can result from trauma, surgery or systemic disease. This article reviews the general biology of viruses, bacteria, fungi and protozoa and the major ocular infections that they cause. Ocular medical specialty may be an extremely specialized branch of medication dedicated to identification and treating patients with inflammatory eye diseases. These diseases can slightly reduce vision or lead to severe vision loss.
· Oncology
· Ocular Bio-mechanics
· Oculoplasty
· Ocular tumors
· Radio & Laser Therapy
Optometry
and vision Science oversee the present progression in vision optics, eye, and vision science and optometry. Optometry is a health care profession that involves examining the eyes and applicable visual systems for defects or abnormalities as well as the medical diagnosis and management of eye disease. Traditionally, the field of
optometry
began with the primary focus of correcting refractive error through the use of spectacles. Vision science is a broad and growing field. It encompasses numerous disciplines, such as anatomy, physiology, pathology, molecular, cellular, cognitive and behavioral neuroscience, optics,
psychophysics
, eye movements, perception, color vision, engineering, and computational vision, among others.
A corneal dystrophy is a condition in which one or more parts of the
cornea
lose their normal clarity due to a build-up of material that clouds the cornea. These diseases: Are usually inherited. Affect both eyes. If your membrane is broken by sickness, infection, or associate injury, the ensuing scars will have an effect on your vision. They might block or distort light as it enters your eye. Keratitis is an inflammation of the cornea. Minor membrane infections are sometimes treated with medicine
eye drops
. If the matter is severe, it should need additional intensive antibiotic or
antifungal
treatment to eliminate the infection, still as steroid eye drops to cut back inflammation.
There are several common causes of corneal disease, including the following:
· Infections
· Dystrophies and degenerative corneal disorders
· Growths
· Herpes Zoster
· Dry Eye
Eye-drops are the conventional dosage forms that account for 90% of currently accessible ophthalmic formulations. It seems that a new tendency of research in
ophthalmicdrug
delivery systems is directed towards a combination of several drug delivery technologies. The major challenge featured by today's pharmaceutical chemist and formulation soul is ocular drug delivery. The topical eye drop is the most convenient and patient compliant route of drug administration, especially for the treatment of anterior segment diseases. Delivery of medication to the targeted ocular tissues is restricted by varied
precorneal
, dynamic and static ocular barriers.
· Principles of Ocular Pharmacology
· Administrative routes of Drugs
· Special Forms of Drugs
The most common type of procedure to remove a badly damaged or diseased eye is called
enucleation
. Once the affected eye is surgically removed, the person undergoing the enucleation procedure typically is fitted with a custom-made prosthetic eye (also called an artificial eye, "
glass eye
" or ocular prosthesis). In general, it is better to avoid surgery if possible, with painted contact lenses, or shells worn over a blind eye often looking as good as a real eye. Orbital Implants area unit typically won't to replace either the whole
eye
or to fill associate eviscerated eye.
A
retinal disorder
or unwellness affects this important tissue, which, in turn, will have an effect on a vision to the purpose of sightlessness. Common retinal conditions embrace floaters, degeneration, diabetic disease, visual impairment, and inflammation pigmentosa. The membrane may be a layer of tissue within the back of your eye that senses lightweight and sends pictures to your brain. In the centre of this nerve tissue is the
macula
. It provides a sharp, central vision needed for reading, driving and seeing fine detail. Retinal disorders affect this vital tissue. They can affect your vision, and some can be serious enough to cause blindness. Retinal diseases very wide, however, most of them cause visual symptoms. Retinal diseases will have an effect on any a part of your tissue layer, a skinny layer of tissue on the within back wall of your eye.
· Diabetic retinopathy
· Epiretinal membrane
· Retinitis Pigmentosa
The
dry eye
is a common and often chronic problem. The dry eyes are caused by a lack of adequate tears. The dry eye could be a condition within which someone doesn't have enough quality tears to lubricate and nourish the attention. Tears are necessary for maintaining the health of the front surface of the eye and provide clear vision. Our tears are a complex mixture of water, fatty oils, and mucus. This mixture helps make the surface of your eyes smooth and clear it helps protect your eyes from infection.
· Burning sensation
· Aching sensations
· Fatigued eyes
· Dryness sensation
· Photophobia
· Heavy eyes
Smartphone and pill use in Australia and worldwide is reaching saturation levels and associated visual and ocular discomfort like headaches,
eyestrain
, dry eyes, and sore eyes unit of measure widespread. This review synthesizes the offered literature and considers these symptoms within the context of a visual sense and/or ocular surface
aetiology
. Also, laptop\PC related eye problems are required wound up across the board: as expressed by a 2015 diagram toward the fantasy Council, 65% about American Grown-ups news individual Hosting signs of cutting edge eye strain.
· Blue light
· Computer vision syndrome
·

Myopia
in children
Market Analysis
Across all over the world, North America is the largest market for ophthalmology drugs and devices which is followed by Europe and Asia. Asia-Pacific is an unsaturated market, especially China and India, and these regions are expected to drive the growth of the ophthalmology market due to growing awareness of eye diseases and increasing disposable income.
After tremendous destruction of the market amid monetary deplete in 2008-2009, ophthalmology showcase is making up for a lost time to return to the type as there is a quick development in populace bringing about an expanded number of patients with eye sicknesses and the occurrence of waterfall and glaucoma are expanding each year. As indicated by an examination it is evaluated that around 48% of the total populace is visually impaired due to the waterfall and in excess of 60 million individuals experience the unwell effects of eye disease and it's assessed that the quantity would ascend to eighty million before the end of 2020. Maturing populace is the main source for refractive blunder issue in nations like the USA and Europe, it is seen that the refractive mistake issue is for the most part found in populace maturing over 40 years.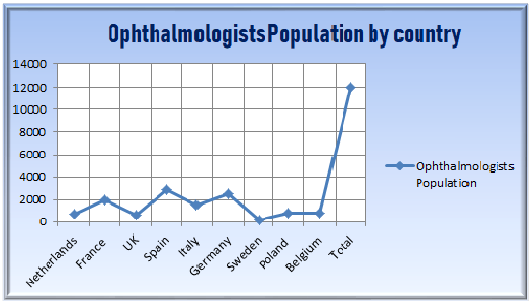 Allied Academies welcomes all the ophthalmologists, optometrists, research scholars, industrial professionals and student delegates from biomedical and healthcare sectors to be a part of the esteemed Ophthalmology Summit 2020. This will be the best amalgamation of academic research and industrial innovations, involving every aspect of cataract and refractive surgery techniques. However, it is open to all types of advanced research methodologies both from academia and industry.